For Employees

Being a breastfeeding and working parent can have its challenges, but a supportive workplace and having the resources you require can make a big difference. On this section of our website you will find tips on how to prepare prior to maternity leave/returning to work, along with tips on conversations to have with your employer, information on expressing and storing breast milk, along with resources designed to support employees. You can also read about how other people negotiated this journey and the types of situations that they found helpful or unhelpful.
Click any of the following headings to read more:
Planning ahead
Before you go on parental leave, talk to your employer/manager/HR department about flexible work options available for when you return.
There is no requirement for employees to inform their employers if they intend to breastfeed or express when they return to work, however, the more you can plan for before baby arrives the smoother your transition back to work will be, it also allows your employer plenty of time to make any necessary arrangements.
It helps to discuss with your employer that arrangements for managing breastfeeding and returning to work are not permanent; each baby's breastfeeding pattern is different and will change over time. The pattern in which you feed or express at one month is different at six months and different again at nine and twelve months.
Some things to consider are:
➜  Talk with your family/whānau about how they can support you
➜  Work part-time or flexible hours, job share, or work some hours from home
➜  Your partner or other carer brings the baby to you at work for feeding
➜  You meet the baby and carer at an appropriate close site
➜  You go to where the baby is to feed, e.g., home, crèche, carer's place, etc
➜  You express and store breast milk at work, to be fed to your baby the following day
➜  You feed the baby before and after work and on days when you are not working

Arrange to have a 'return to work' meeting about a month before you plan to return. When you return to work, confirm these arrangements. Be prepared to change them if it is not working out. Keep your manager informed of how things are going.
Negotiating Support
In recent years the proportion of working mothers has continued to increase. In response to this there are many new family-friendly policies and practices that are there to support you and your rights. However, the introduction of breastfeeding breaks and facilities may be new to some organisations, and your employers and managers may not have considered this specific scenario previously.Therefore, you may be in the position of needing to advocate for your rights in the workplace.
How can I advocate for myself?
➜  Know your entitlements. The Legislation, terms of employment, and relevant company policies and practices.
➜  Discuss your overall wishes well in advance (before you go on leave). Discuss your options during your leave, and then your more specific needs in plenty of time before you return to work.
➜  Understand areas of common ground between you and your employer. You want a job where you can be successful and happy. Your employer wants you to be successful and happy in the job, so you will be productive and continue to work there.
➜  Be the one to frame the issue as this will often determine the type of solution devised. An issue that is presented as a problem, for example, "lack of a dedicated breastfeeding room" is more likely to result in a different or less desirable solution than the same issue defined as, "need for some private space for 15 minutes twice a day".
➜  If you can give an estimated time frame for your request e.g. "I expect to be feeding three times a day for the next 3 months and then probably twice per day for 6 months." This will help your employer understand how much time you need, and in many cases,  it won't be as much as they might have thought!
➜  Don't be pressured into accepting conditions you're not happy with. If you do feel pressured, ask for some time to think about it.
➜  Suggest your preferred options for combining breastfeeding and work. You may be the first person to have requested workplace flexibility so that you can breastfeed, and it may, therefore, be that initially, the organisation does not know how to react.
➜  If you feel comfortable continue to be open with your employer about your needs. Review the situation with them regularly.
If you have an Equal Employment Opportunity (EEO) Officer, Human Resources Group or Personnel Group, or are a member of a union, you may want to talk with them first about the company's breastfeeding policies before discussing with your employer.
What if I have a problem?
You have the right to ask for support and your employer should respond positively. This is because under the Employment Relations (Breaks, Infant Feeding and Other Matters) Amendment Act 2008, employers are required, so far as reasonable and practicable in the circumstances, to provide appropriate facilities and breaks to an employee who wishes to breastfeed either at work or in work time. If your employer does not allow you any or some of your requests/entitlements put your request to them in writing and ask for a written response.
Who can I go to for help?
➜  Seek advice from your organisation's Grievance Officer, EEO Manager or externally (try your union, the Human Rights Commission, Working Women's Resource Centre, or Community Legal Centre). They may be able to give you advice on dealing with the issue yourself or may be able to talk to your employer on your behalf. Sometimes it may simply need some creative solutions to balance both your needs and the needs of the employer, and sometimes a simple phone call to your employer to remind them of their legal obligations will be enough to make sure you get your entitlements.
➜  If you feel harassed or discriminated against, keep a log or diary of all incidents. Wherever possible talk to the person or people involved first and try to resolve the issue. If that doesn't work or isn't possible, talk to your direct manager and/or the Human Resource manager. Find out if your workplace has a policy to deal with workplace grievances.
➜  If internal methods are not successful you can get help from your union, Human Rights Commission, or Community Legal Centre.

Remember that it is unlawful for you to be bullied, harassed or discriminated against because you breastfeed as well as it being unlawful for you to be harassed or discriminated against for standing up for your rights.
Expressing at work
This section provides you with information on collecting, storing and using expressed breast milk. However, your midwife, a La Leche League leader, or a Lactation Consultant are the best people to show you the correct way to express breast milk and how to store and reheat it.
Before you return to work, you can try the following:
➜  Try to have breastfeeding well established before beginning to express breast milk. For most people, this is around 8-12 weeks after your baby is born.
➜  Begin expressing 2-3 weeks before your planned return to work. This will allow you to build up a back-up supply to provide some peace of mind on those days when you aren't able to express as much as usual.
➜  Expressing by hand is usually the most comfortable way to collect breast milk, but it can take more time. Electric breast pumps are quicker and more efficient than manual ones but also more expensive. They can be bought or hired from a chemist, lactation consultant, hospital, on-line or at some maternity stores. Try borrowing or hiring different breast pumps before you buy one.
➜  Frequent breastfeeding at home, before and after work and on days when you are not working will help to maintain your supply. Your baby will always get more milk than a breast pump can.
➜  If possible, make the first week back to work a short one by returning late in the week. Use the weekend to rest and prepare for any challenges you didn't anticipate.
When expressing make sure you:
➜  Good hygiene: sterilise pumps and containers by boiling in water for 5 minutes or soaking in a sterilising solution for one hour. Some can be sterilised in a microwave.
➜  Stay comfortable: remember to wear clothes that will allow you to express easily, ensure you have some breast-pads readily available to deal with any leaks. It's best to express in a place where you feel relaxed as this supports your let down reflex. You can try and  close your eyes, listen to soothing music, visualise your baby, call the baby's carer and talk to them about the baby, etc.
➜  Look after your health: drink LOTS of water and remember to eat throughout the day.
➜  Using a pump: using a double or twin breast pump to express from both breasts at the same time can help cut down the time needed to express. Using a breast pump shouldn't hurt so if it does try different positions or if it has different suction settings, set it to the lowest setting first and gradually increase.
➜  Find a routine that works for you: if your baby is very young or you have been breastfeeding frequently, you may find you need to express more frequently at first, so you don't feel uncomfortably full or start to leak. If possible, shorter, more frequent expressing breaks may be better for your supply than longer breaks further apart. E.g., express three times for 10-15 minutes versus two times for 30 minutes if you're away 8 hours. This way you're expressing about the same number of total minutes, but you're stimulating the breast more frequently, which triggers more milk production. You may also want to consider expressing at home after each feed when you are not working. Your body will gradually adjust to the new schedule over a short period of time.
➜  If your breasts start leaking: apply firm pressure (e.g. use the inside of your wrist) directly on the nipple for a minute or two. This can be done discreetly by folding your arms across your breasts. Try and express as soon as possible.
How to store and use expressed breast milk:
Storing your breast milk at work: keep your breast milk in a clean container (sterilised if your baby is under 6 months). Write the date and time, and add your name if it will be stored in a communal fridge. Keep it in the back of the fridge, or if you don't have access to a fridge keep it in a chilly bin with ice packs. Wash your pumps and in very hot water and sterilise if possible/necessary.
Storing your breast milk at home: when you get home, the milk can be kept at the back of the fridge (where it's coldest) for up to 48 hours or frozen for 4-6 months (4 months for self-contained freezer compartment with separate door, 6 months for a deep freeze, only 2 weeks for a freezer compartment inside a fridge).

Using expressed breast milk: thaw frozen milk gradually, preferably by letting it de-frost in the fridge overnight. Never microwave breast milk as this can destroy the nutrients in it. Thawed milk should be kept refrigerated and used within 24 hours. Do not refreeze after thawing.
Support for Formula Feeding
Many of the support systems for breastfeeding mothers are just as valuable for parents returning to work who formula feed their baby and want to maintain the attachment established during maternity leave. You may want to negotiate with your employer to take regular breaks to feed your baby at work or to visit your baby during the day.
Try to have open and honest conversations with your employer about your wishes to continue feeding your baby in person once you return to work. Use the resources in the (employees section) of this website to assist you with negotiating with your employer.
Click here for a comprehensive guide to feeding formula to your baby if this is what you choose to do.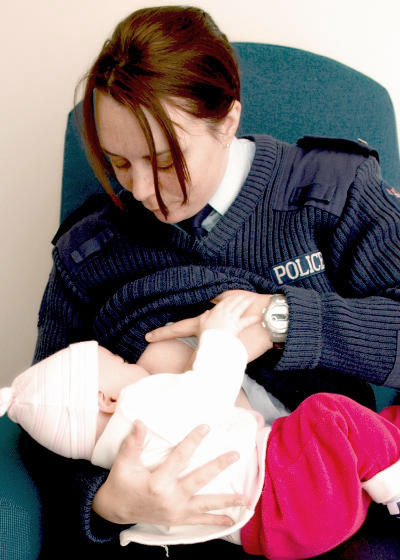 Breastfeeding and working journeys
Employer support can make or break many women's success when trying to combine breastfeeding with working. In the following examples you see the differences between women who were supported in their right to breastfeed compared to women who were not.
Positive experiences:
"I work for a publishing company where they not only allowed me to breastfeed at work but bring my daughter in every day. We would arrive at work at 8 am where she would get a feed and then go to sleep until 11.30 when I fed her again, then dad would collect her. I expressed milk in the afternoon then arrived home for her evening feed. My boss was very generous in his support during this time and I am ever so grateful for that".
"HR were nothing short of extraordinary. I asked for a space (broom closet would do) and was given a spacious, dedicated room with electronic swipe card for privacy, complete with a new couch, fridge and even a tape deck to relax by! Even more than all this, I appreciated their attitude that it was a perfectly normal thing to do". – WHA survey
"I expressed milk sometimes up to three times a day at work for three months. My male manager was more than happy for me to use his office. I believe that I wouldn't have lasted that long without the support of my employer". – WHA survey.
Challenging experiences:
"I had to express in the toilets as there was no other suitable place. Every break I would rush upstairs to the loo to express and if I could manage have something to eat at the same time. I tried using a little room off the boss's office but got walked in on and a second time turfed out. I felt like no one really cared".- WHA survey
"They were not supportive at all. Did not want to provide me with suitable options… Male colleagues felt uncomfortable discussing the topic all together… I fought a fight not only for me but other colleagues also. It worked for a few weeks, but I then had to give up. If they had been more accommodating I (would have) continued breastfeeding longer". – WHA Survey
Useful links
Women & Work » World Alliance for Breastfeeding Action's information page.
Australian Breastfeeding Association » information on combining breastfeeding while employed.
Working and Breastfeeding » La Leche Legue's detailed information foe returning to work while breastfeeding. Also includes information for different counties.
Working & Pumping Tips » tips for moms who work & pump, including links to plenty of helpful resources.