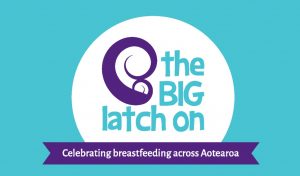 The Big Latch On is an event which involves women gathering together at registered venues to breastfeed and to offer peer support to the other breastfeeding women in their community.  Family, whānau, friends and breastfeeding supporters from the community also attend the events to support and promote breastfeeding. Individuals and community groups volunteer to organise and host Big Latch On venues across the country.
For those women who cannot make it to a Big Latch On event in their local community, there is an option to participate online, through the 'I latched on' breastfeeding selfie initiative.
Venue registrations will be opening soon to sign up to host a Big Latch On.
More information www.biglatchon.org.nz