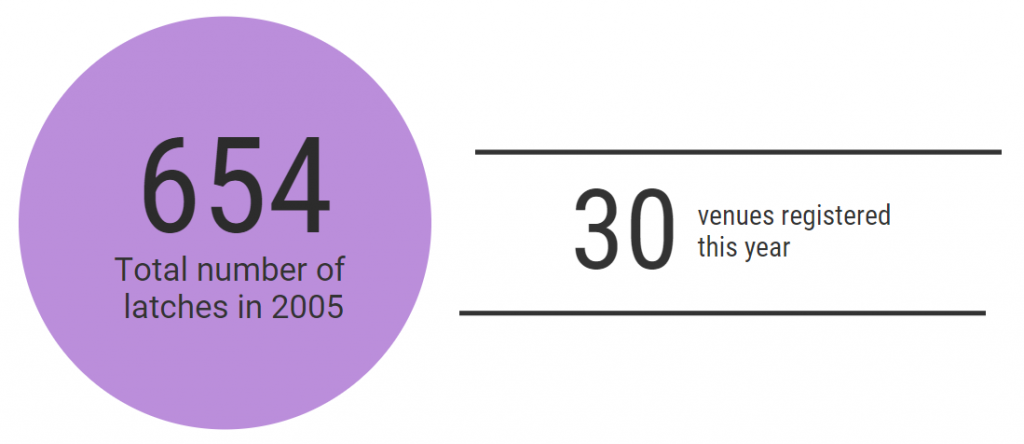 The first Big Latch On was held in New Zealand on the 5th of August, 2005. We had a total of 654 latches across 30 venues in Aotearoa.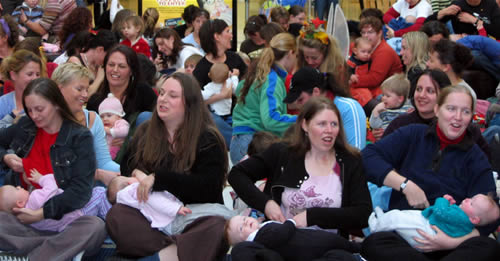 Well Done New Zealand! – New Zealand Breastfeeding Record
Six hundred and fifty four breastfeeding mothers celebrated World Breastfeeding Week by setting a New Zealand record at 11am on Saturday 6th of August 2005. The New Zealand record came about from an attempt to break the World Guinness RecordTM of 1,130 mothers breastfeeding simultaneously from Berkeley California in 2002. Berkeley's record was set with the mothers and their babies gathering in one location in their local community theatre.
Louise James reports.
Getting that many breastfeeding mothers in one place would be impractical and probably impossible. However New Zealand is all in the same time zone so it was possible under the Guinness rules to have venues throughout the country. Women's Health Action set out to get as many venues on board as possible and make a real attempt at the record. Under the rules, one group must be responsible for organising the attempt and Women's Health Action was delighted to take the lead and make it part of our annual World Breastfeeding Week celebrations. World Breastfeeding Week happens on August 1st to August 7th every year and Women's Health Action have been active in recent years organising posters and events to celebrate WBW in New Zealand.
The New Zealand record attempt was registered with the World Guinness Record in May 2005 and we set about trying to get as many venues nationwide as possible. It was important that interested centres got timely information and resources to help them make the record attempt a success. A major milestone was getting THE EDGE radio station on board to run with it nationally. This opened up the possibilities for a unifying nationwide communication – so that all women involved were able to feel part of the national effort and latch on in unison around the country.
Keen breastfeeding advocates around the nation secured venues, found sponsorship and invited all the breastfeeding mothers they could find. Local newspapers covered the stories, and local radio also got involved in promotion. On TV, Campbell Live were enthusiastic advocates.
We had venues from as far South as Gore, as far North as Whangarei, Gisborne in the East and Hokitika in the West. The thirty five venues around the country included malls, women's rest rooms, birthing centres, community halls, libraries, cafes, Plunket rooms, midwifery rooms, halls, churches and family homes.
The largest number of breastfeeding mothers was seventy four at Auckland's LynnMall but Nelson won the 'per head of population race' with a staggering sixty seven mothers breastfeeding simultaneously at Fairfield House. Other centres with high numbers included Christchurch with fifty one, Taupo with thirty six and Cambridge with thirty four. However, all eligible women who registered were important and counted. It was great to have fabulous fours in Cromwell and attending a birthday party in West Auckland! Some areas got on board early but others waited until the last minute. Wellington Central signed on as lucky last during World Breastfeeding Week itself but still managed a creditable twenty one latched on.
Around the country centres enjoyed being part of the event and had a lot of fun. All want to have a go at the record again next year. There was an amazing age range of children being breastfed from babies a few weeks old to preschoolers several years old. There was a wonderful feeling of camaraderie and breastfeeding acceptance in the groups and mothers were not in a hurry to leave when the count was over.
Most areas had put together food and drink and many had spot prizes for the mothers. The day was beautiful all over the country and the sun shining on everyone added to the magic of the host of breastfeeding mothers and children. The buzz was everywhere – felt by those present at the venues, enjoyed by those watching it on the television evening news in the faces of those that featured in the newspaper photos. Breastfeeding was well and truly celebrated nationwide. Breastfeeding is well and truly alive in New Zealand. Congratulations New Zealand for a wonderful World Breastfeeding Week.
Breastfeeding and Family Foods: Loving & Healthy
In 2005 the World Breastfeeding Week theme of this year's World Breastfeeding Week (WBW) is continued breastfeeding and giving other
foods after six months of age. These foods need to be high in nutrients, the right consistency and appropriately fed. We consider how to make the transition from exclusive breastfeeding, to breastfeeding and eating with the rest of the family, in a way that is loving and caring".