A breast implant is an envelope which usually contains silicone and is designed to mimic the look and feel of a natural breast. There are many reasons why women choose to get breast implants, including for cosmetic reasons or after having a mastectomy.
Breast reconstruction
A breast reconstruction may use implants to rebuild and reshape the breast following a mastectomy. Most women who opt for reconstruction will undergo this at the same time as their mastectomy, although in some cases (e.g. ongoing cancer treatment) it is recommended to delay the reconstruction. A reconstruction will not lead to having sensation in the breast, and in most cases there will be no nipple unless this has been preserved during the mastectomy. Some women opt to get a new nipple tattooed once the reconstruction has healed.
While receiving implants after a mastectomy will not restore sensation to the breasts they have been linked to improvements in self-image and self-confidence1.
Can I still breastfeed if I get implants?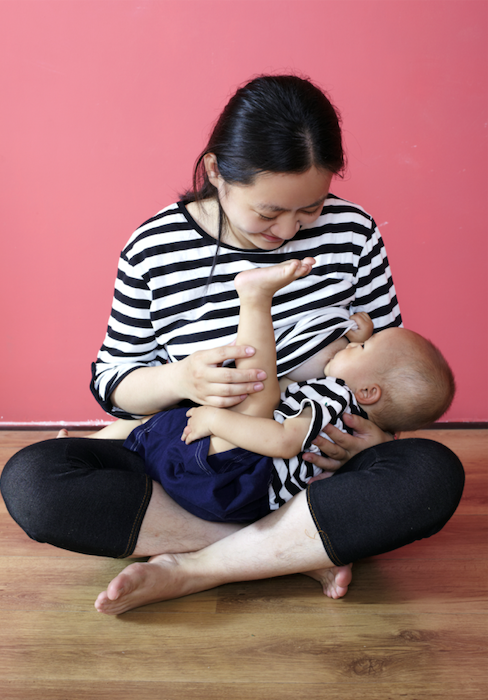 Yes, you can breastfeed with implants. It is possible that in some cases implants may effect milk supply, and this is usually caused by damage to nerves and breast tissue or scarring in the milk ducts. The risk of such damages if often dependent on the type of breast surgery you receive. The most commonly performed technique involves placing an implant under the breast tissue or muscle. Because this method leaves the glandular tissue and nerves intact it is unlikely to impact milk production2.
Are implants safe?
Like any surgery breast augmentations involve a level of risk, including for infection. Some women may also have differences in how they experience temperature and sensation through their breasts. Medsafe's website currently warns that "the use of breast implants is not endorsed by the New Zealand Government, whether through the Ministry of Health or otherwise, and the safety of such implants cannot be confirmed or refuted."
Furthermore, implants need to be maintained which means if you get implants inserted it's likely you will need follow-up surgeries for maintenance. Around 1 in 5 women will have their implants removed or replaced within 8 to 10 years of their initial augmentation5.
Breast implant illness
A growing number of women are identifying difficulties after receiving implants, and refer to this as 'breast implant illness'³. This is not a medically recognized disorder but rather a term coined by women who have experienced negative symptoms upon receiving implants. These include symptoms such as fatigue, chest pain, headaches, brain fog, neurological and hormonal issues, sleep disturbance, and depression. There is currently no diagnostic testing for breast implant illness and further research into the link between implants and illness is being investigated. Recent research has suggested there may be a link between silicone implants and certain autoimmune diseases4.
Although breast implant illness is not yet scientifically realized it is important that if you are experiencing negative symptoms after receiving implants you speak to a doctor.
PIP implants
In 2010 it was revealed a French company had used unapproved industrial-grade silicone filler instead of medical-grade silicone in their implants. All PIP silicone breast implants were recalled. If you have received breast implants in New Zealand it is unlikely you would have been effected by PIP implants as they were not routinely used and there are no records of their importation or distribution within New Zealand. However, it is possible some surgeons may have imported PIP implants and used them in private practice. If you are concerned about the type of implant you have contact your GP or surgeon. You can also contact the NZ Association of Plastic Surgeons (NZAPS).
Useful links
Breast reconstruction » the Breast Cancer Foundation's information page on breast reconstruction following mastectomy.
Breastfeeding with implants » detailed information on breastfeeding after a breast augmentation
Breast implants » information from the Ministry of Health
Silicone gel breast implants » Medsafe's consumer information for implants
References
1Howard Mc-Nattt, M., (2013). 'Patients opting for breast reconstruction following mastectomy: an analysis of uptake rates and benefit'. Breast cancer. vol 5, February 2013. pp 9-15.
2Breastfeeding Support. 'Breastfeeding with implants'. Retrieved from: https://breastfeeding.support/breastfeeding-with-implants/. Last updated 6 September 2019.
³Magnusson, M., (2019). Breast implant illness: A way forward. Plastic and Reconstructive Surgery. vol 143, March 2019. pp. 74-81.
4Watad et al., (2018). Silicone breast implants and the risk of autoimmune/rheumatic disorders: a real-world analysis. International Journal of Epidemiology. vol 47, December 2018. pp. 1846–1854.
5Healthline (2018). How long do breast implants last?. Retrieved from: https://www.healthline.com/health/how-long-do-implants-last