A recent partnership between The Warehouse and The Period Place has meant donation boxes for period products are now installed in 10 Warehouse locations. Shoppers are able to place purchased period products into the donation boxes, which will then be distributed by The Period Place.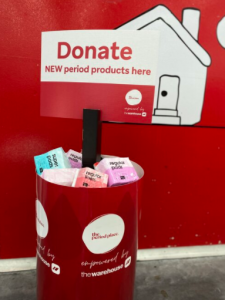 Period products are a necessity for those who menstruate. However, it's estimated that over 33,000 people are living in period poverty in Aotearoa. When people go without period products it greatly effects their quality of life. It's common for people in period poverty to stay home from school, take unpaid leave from work, and feel stigmatized and unable to participate in society.
This initiative is an fantastic way to increase access to period products, bring awareness to period poverty, and normalize menstruation.
Read more and find out where you can donate.